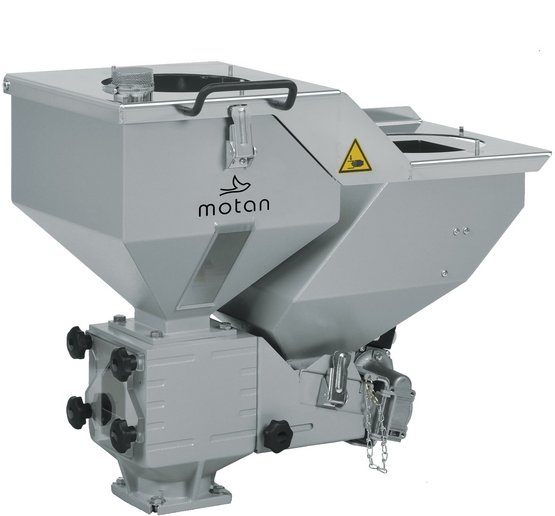 The demand for excellent mixing quality and consistently accurate dosing is a must when combining additives to the virgin material at the processing machine.
The volumetric MINICOLOR V dosing and mixing units meet and exceed these requirements. Mounted at the feed throat of the plastics processing machine, the units require very little space.
Depending on need and requirement, screw or disc dosing modules can be installed at the mixing neck. Disc dosing is ideal for translucent and opaque parts as well as for dosing very small quantities.
×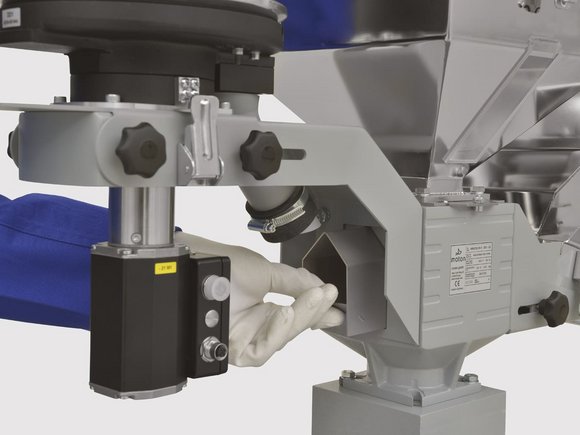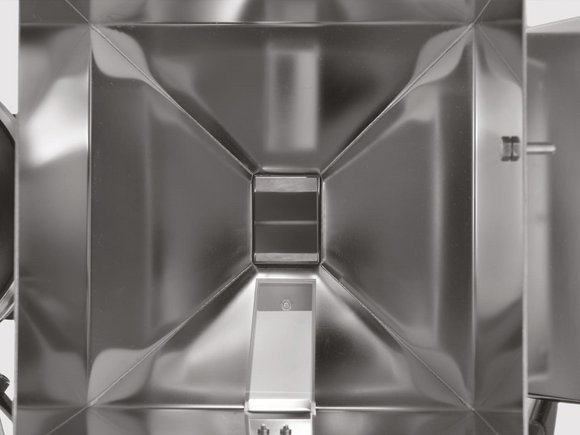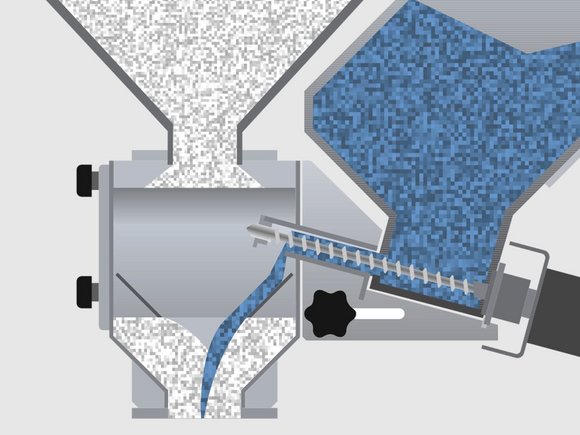 Volumetric
MINICOLOR V
Mixing neck
Unbeatable mixing quality.
The mixing cruciform is made of stainless steel. It separates the main material from the additives until they meet just above the throat of the processing machine. They then flow together, resulting in a homogeneous mix with no material separation.
×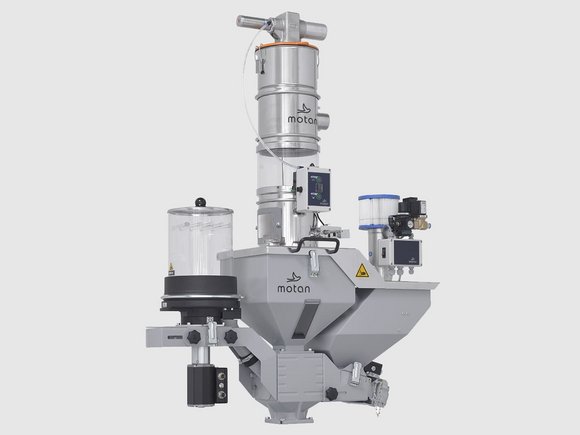 Volumetric
MINICOLOR V
Synchronous dosing
Better quality of end product and cost-efficient because no overdosing of expensive materials.
Synchronous dosing provides excellent recipe accuracy and reproducibility which can be traced at any time.
×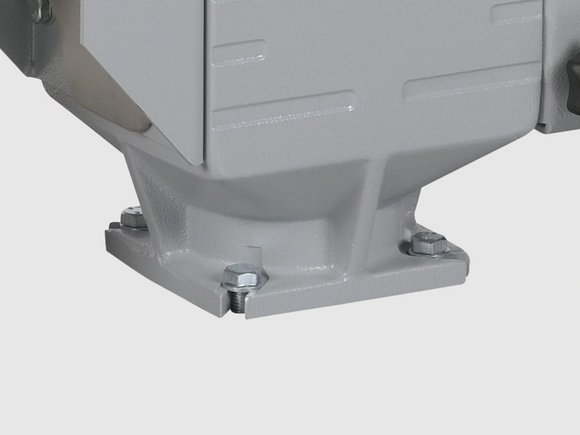 Volumetric
MINICOLOR V
Mounting flange
Easy to fit – no need for drilling.
The mounting flange is designed so that it can easily be mounted on different sized feed throats without the need for drilling.
×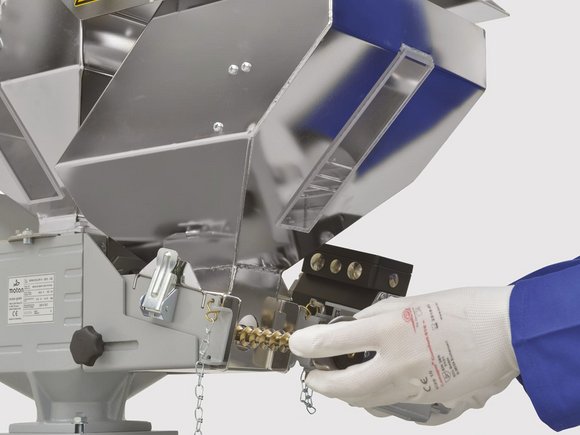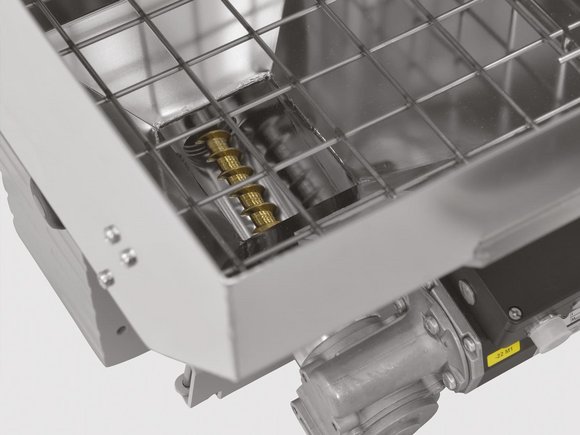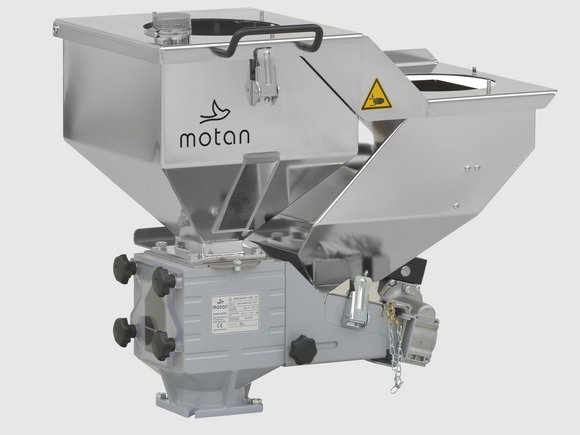 Volumetric
MINICOLOR V
Angled dosing screws
Greater accuracy because no material slip.
There are three different sizes of wear-resistant dosing screws available and they can be removed without the use of tools. The screws are inclined at an angle for a constant dosing flow insensitive to vibration. This gives you greater accuracy because machine movements have no effect on the dosing process and material slip on the screw is eliminated.
×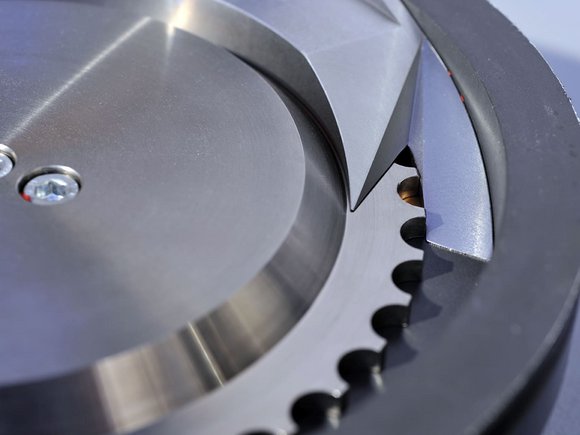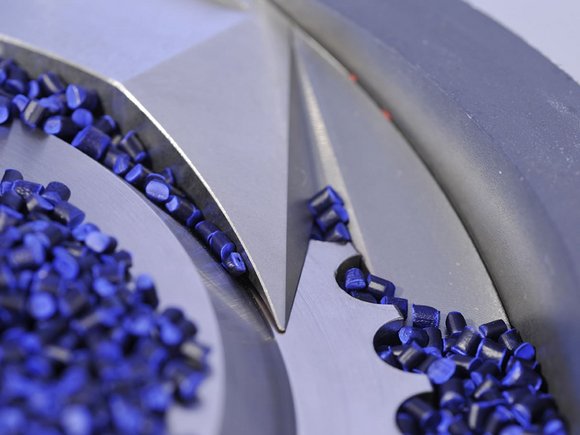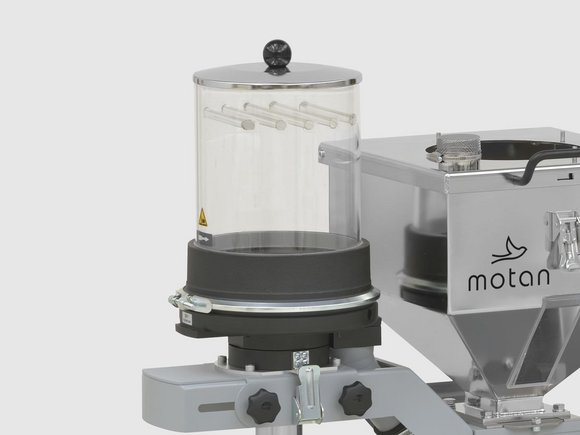 Volumetric
MINICOLOR V
Disc dosing
Very high dosing accuracy - even for small dosing quantities.
The dosing disc with the MINICOLOR V gives you real volume dosing which guarantees very high dosing accuracy – even for very small dosing quantities. The discs are available in three different sizes (wear resistant design optional).
×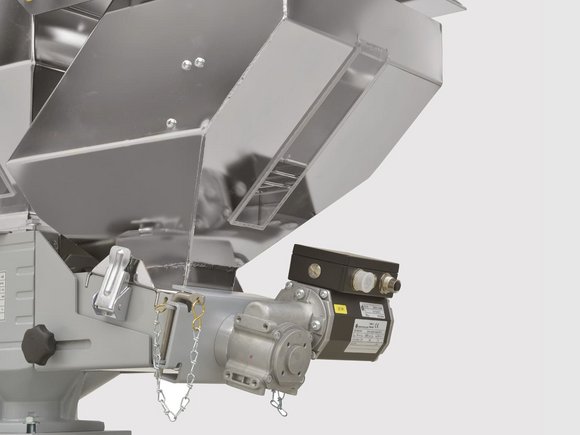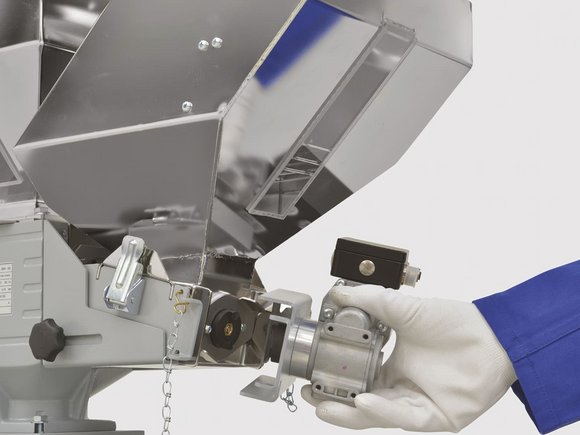 Volumetric
MINICOLOR V
Dosing motors
Greater reliability because maintenance free.
The dosing motors are swivel mounted and can be removed without tools. The motors are brushless and have integrated motor management which makes them maintenance free.
×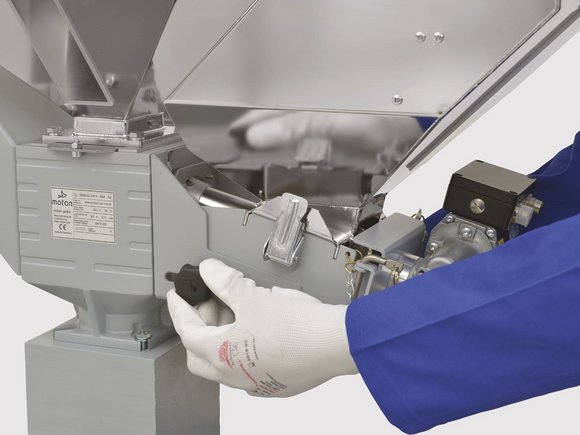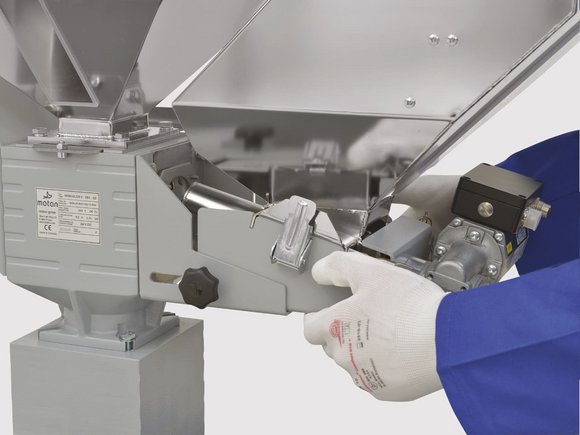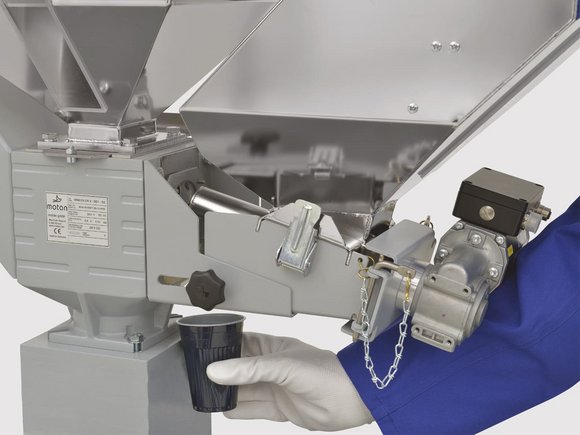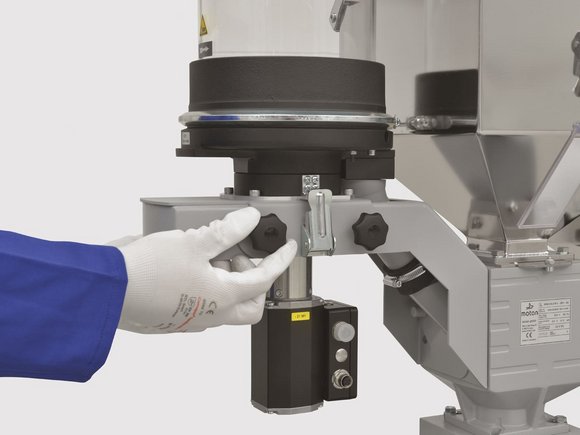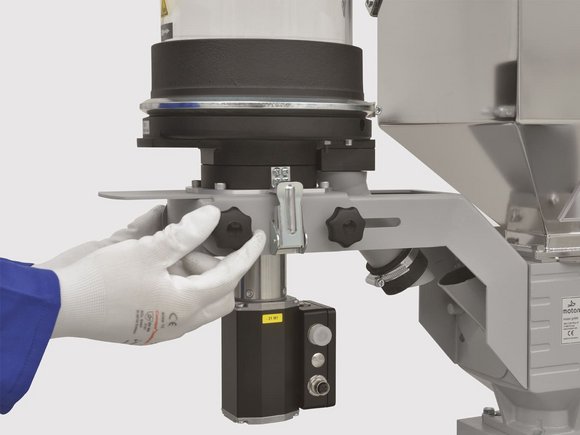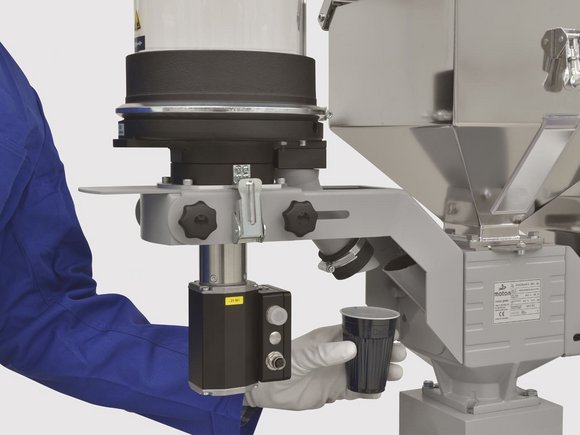 Volumetric
MINICOLOR V
Simple calibration
Quick and easy with no material spillage.
During calibration, you can easily withdraw the dosing module by loosening two star grips in order to collect and weigh the additive sample. This means you save time and there is no material spillage.
×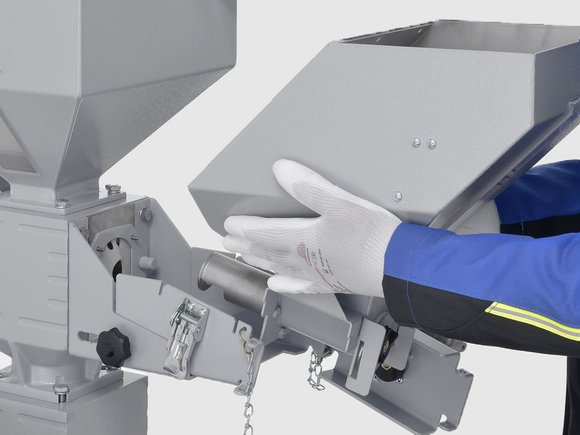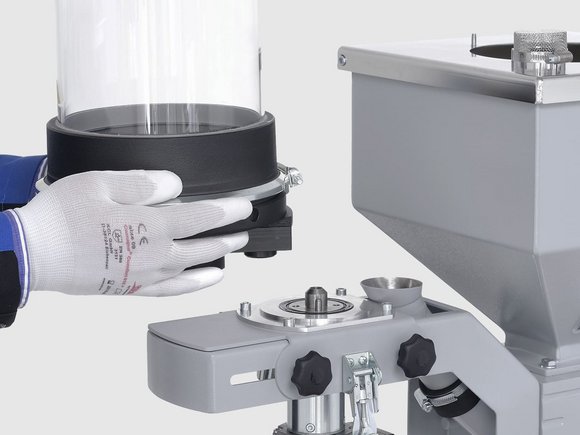 Volumetric
MINICOLOR V
Quick material changeovers
Higher efficiency because more time spent in production.
Cleaning and material changeovers are fast and require no tools. The quick-change system, a removable supply hopper, a swivel mounted motor, and a dosing screw with a quick release connection, makes the unit easy to operate and saves you valuable time. The complete dosing module can be used as a colour cassette, allowing you fast colour changes without any previous cleaning.
×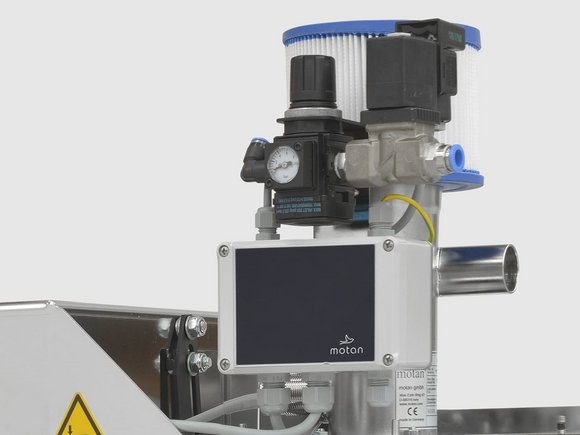 Volumetric
MINICOLOR V
METRO VL
Ensures that the supply hopper will not run empty.
For automatic filling of the additive supply hopper of the MINICOLOR V you can use a compressed air loader. The loader can be installed by replacing the supply hopper lid. With METRO VL, a level sensor in the hopper signals the need for material and ensures that the hopper never runs empty.
×
Volumetric
MINICOLOR V
VOLU MC control
Cost effective solution for volumetric colouring with masterbatch.
Modern microprocessor control with time function and easy operation for a MINICOLOR V with one dosing module.
×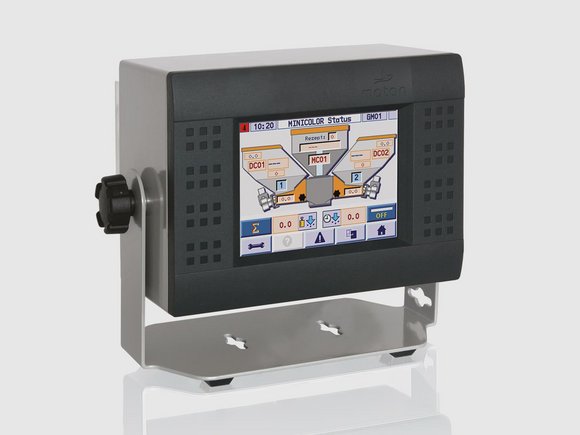 Volumetric
MINICOLOR V
VOLUnet MC control
Automatic additive calibration saves money because no overdosing of additives.
Intuitive full colour graphic display with touch screen for hassle-free operation of MINICOLOR V.
Suitable for one or two dosing modules
Additive calibration wizard
Up to 50 recipes can be stored
Reporting function via Ethernet
Standard network interface (Ethernet) for integration in the motan CONTROLnet network
Regrind compensation function