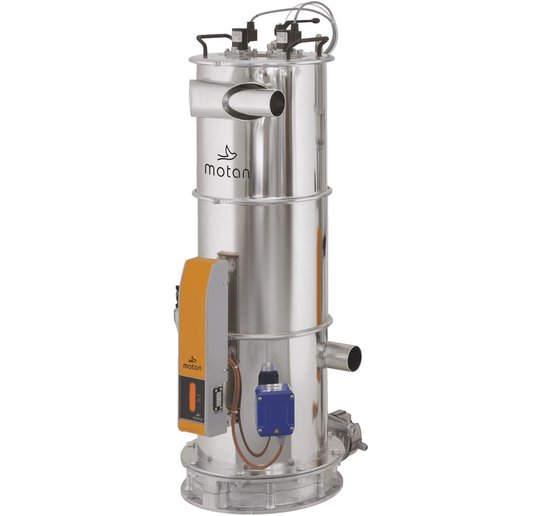 In the plastics compounding and manufacturing process there are many powders (all with different flow properties) which require handling. For the vacuum conveying of both free-flowing and non-free-flowing powders, motan has a solution.
The METRO P series of hopper loaders are available in two versions and guarantee reliable and dust-free conveying.
The METRO PC system loaders are designed to be integrated into centralised motan conveying systems.
The METRO PB single loaders are designed to be used as a "stand-alone" solution.
From the material source right through to the point of processing, motan offers the ideal solution for your powder handling requirements.
×
Powders
METRO P
Modular design
No product redundancy - as your production requirements change so does the material loader.
All material loaders are fully modular and can be matched to different throughputs and requirements depending on the application. Not only are there different material loader volumes but also different material inlet and outlet sizes which can be accurately adapted to suit the throughputs and conveying distances you require.
×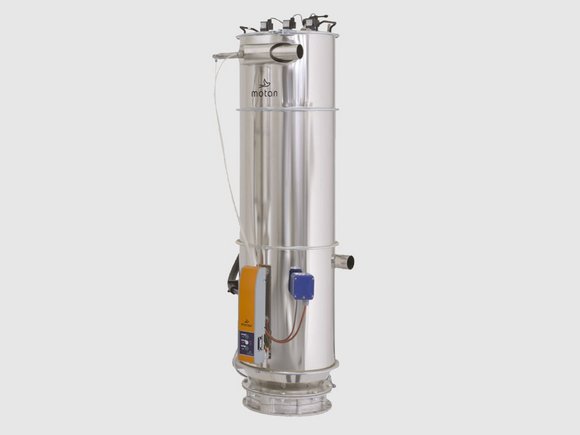 Powders
METRO P
Electro-polished stainless steel
Contamination free and easy to clean.
All material loaders are of modular design and are constructed from electro-polished stainless steel. Guaranteeing you contamination-free operation and easy clean down due to the high quality surface finish.
×
Powders
METRO P
Metro PC system loaders
Full flexibility and a reduction in materials handling costs.
To cope with different material conveying throughputs, hopper loaders are available in 10, 25, or 50 litre sizes. The system loaders are an integral part of a centralised material conveying system. Each system is designed to suit your specific needs; e.g. throughput, material types, and plant layout are individually taken into account. In addition to different loader sizes, a wide variety of conveying options, controls, blowers, and filter techniques allow the creation of the optimum system for your facility. By centralising your conveying system, the cost of material handling is reduced considerably.
×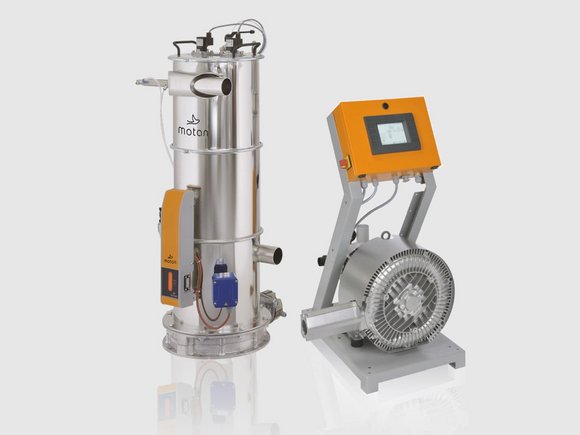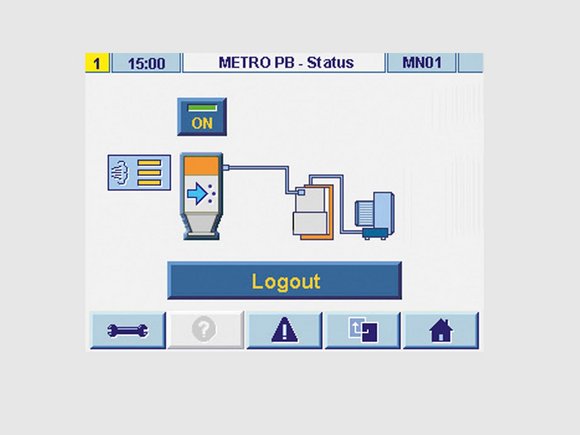 Powders
METRO P
Metro PB stand-alone loaders
A first step to efficient, automated production.
The METRO PB versions come in a variety of loader and blower sizes for material throughputs of up to 1000 kg/h. Included in the scope of supply is a floor-mounted blower station comprising of a control and a maintenance-free, low-noise three-phase blower. The easy-to-use colour graphic display with touch panel is located at a convenient height allowing you to easily operate the stand-alone system.
×

Powders
METRO P
Material discharge for METRO PCF and PBF
Optimum conveying capacity and wear resistant.
The METRO PCF and PBF models are designed for free-flowing powders. A large counter weighted gravity discharge flap (Ø130mm) is used for free-flowing powders with throughputs up to 500 kg/h. For higher conveying throughputs of up to 1000 kg/h, a larger pneumatically operated flap (Ø266mm) is required. Because the discharge flap is made of stainless steel, it is abrasion resistant and meets all requirements for medical or food packaging applications. The angled design increases the outlet area and helps with materials which may bridge.
×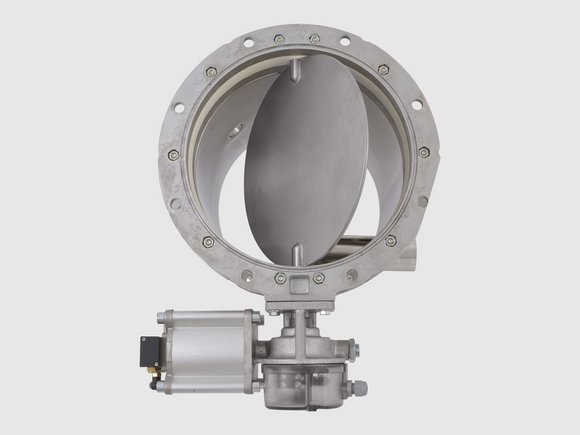 Powders
METRO P
Material discharge for METRO PCN and PBN
Large diameter butterfly valve for optimum discharge of nonfree-flowing powders.
The METRO PCN and PBN models are designed for non-free-flowing powders. A large diameter pneumatic butterfly valve (Ø300mm) is used for all non-free- flowing powders, guaranteeing safe material discharge. The opening and closing of the valve helps to break any bridged material.
×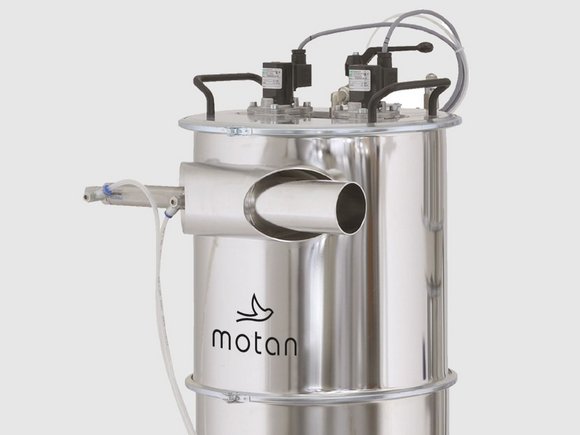 Powders
METRO P
Vacuum valve
Multiple loaders can be connected to one blower.
All METRO PC loaders are fitted with a vacuum valve. The valve opens the vacuum line when material is being conveyed and closes with an airtight seal after the conveying phase. This allows multiple loaders to be connected to one blower.
×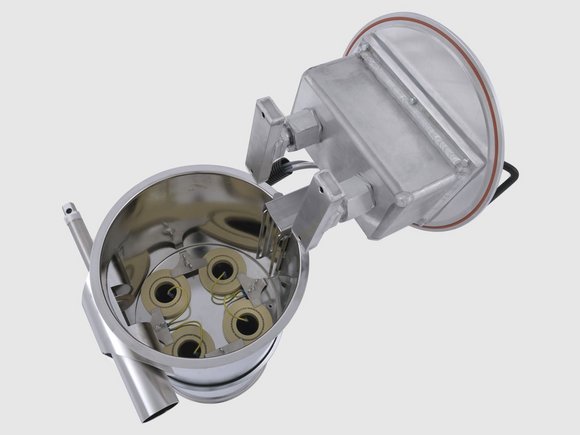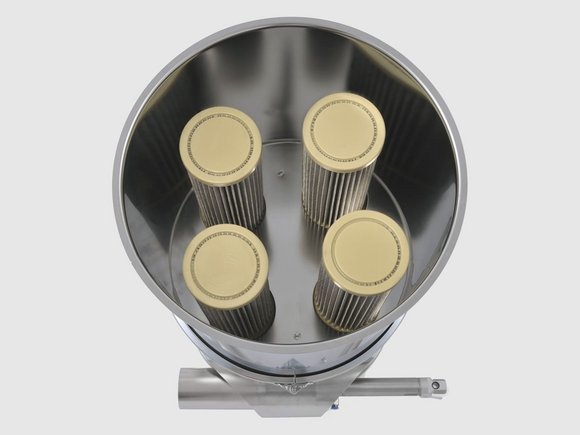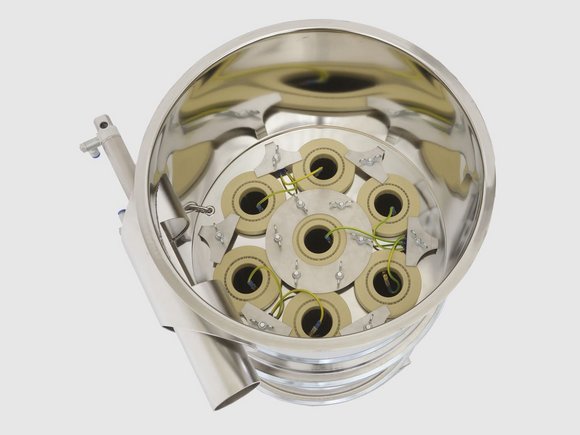 Powders
METRO P
Filter unit
Guarantees constant and stable material conveying and reduces maintenance costs.
Up to 7 generously dimensioned PTFE-coated star cartridge filters can be installed in the loader. The large filter area to air flow ratio and the Teflon membrane coating on the filters provides you with optimum separation for all powders.
A compressed air accumulator integrated in the hinged lid of the hopper loader with direct connection of the air outlet nozzles secures high-efficient filter cleaning. Depending on the material to be conveyed, the filter cleaning sequences can be optimised in the setup menu of the control.
×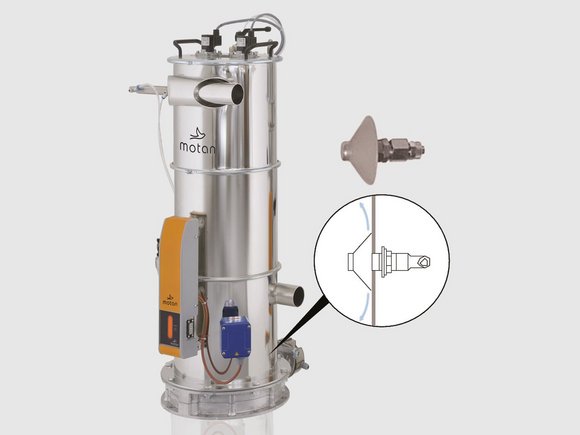 Powders
METRO P
Fluidisation aid for METRO PBN and PCN loaders
Eliminates bridging and guarantees safe discharge
The optional fluidisation aid installed in the hopper body of the N-type loaders eliminates bridging and guarantees safe discharge even with non-free-flowing powders.
×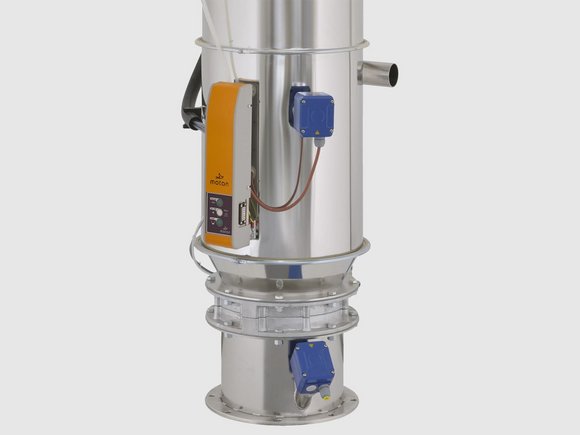 Powders
METRO P
Level sensor in every hopper loader
Process security – no over or under filling of the loader.
A rotary paddle switch can be optionally installed to automatically stop the conveying cycle when the level is reached.
×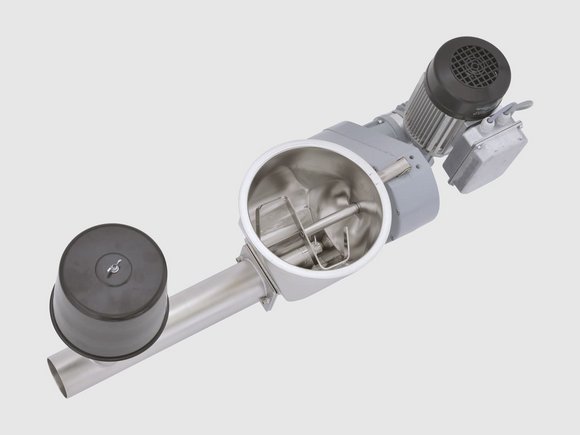 Powders
METRO P
Screw discharge module for conveying of non-free-flowing powders
Guarantees your material reaches its end destination.
When conveying non-free-flowing powders there is the option of a screw discharge module in a collecting hopper fitted with a horizontal agitator. The integrated feed-screw conveys the powder directly into the material feed line. By varying the feed-screw speed, the amount of material being conveyed can be adjusted.
×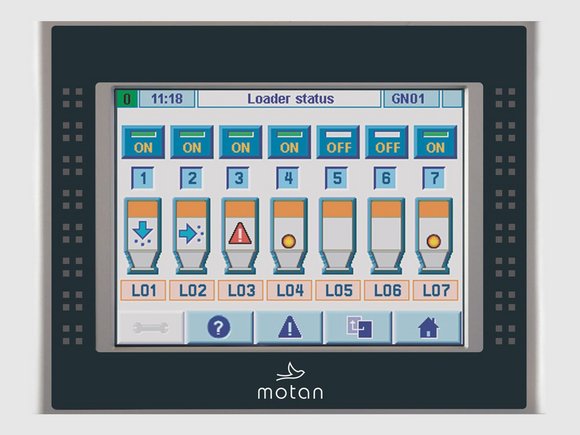 Powders
METRO P
Controls
From simple cost effective solutions to innovative state-of-the-art controls with Ethernet-based open network
Several different levels of automation are available for controlling the METRO PC loaders. The loaders are fully compatible with other motan products and can be networked in motan's CONTROLnet world. Both powder and granulate material loaders can be integrated into the same conveying system.
SELVAC 2: Tried-and-tested electronic control.
METROnet S: a soft PLC conveying control for standard conveying systems.
METROnet AE and AN: the ultimate networkable system toolkit for complex conveying systems with either a soft PLC or Siemens S7 PLC with WEBpanel