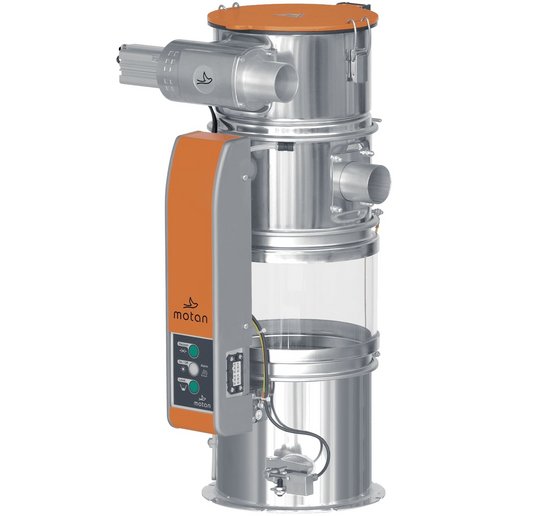 METRO G is the most comprehensive and flexible material loader range on the market. It combines the best of two established material loader ranges – colortronic and motan. Whether simple or highly complex, METRO G's modular building block system will provide you with an individual solution tailored to your needs.
×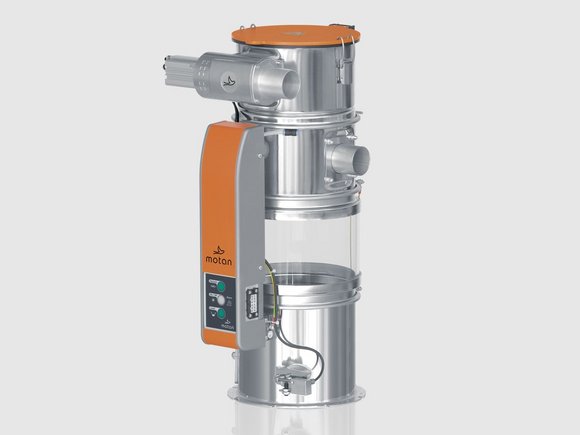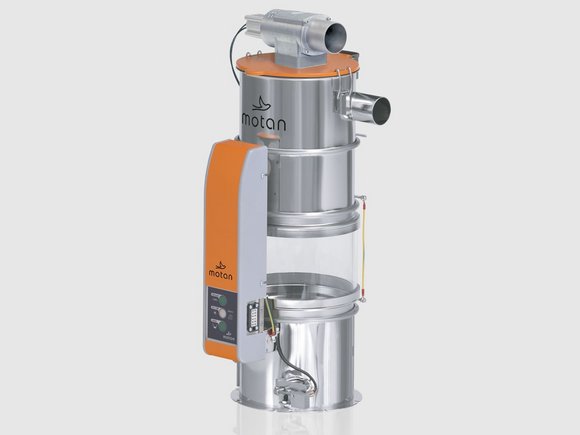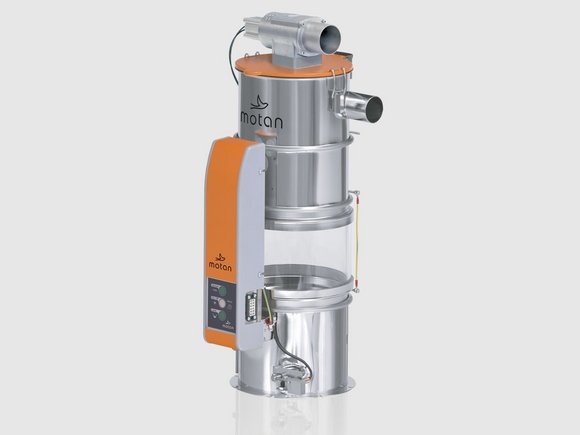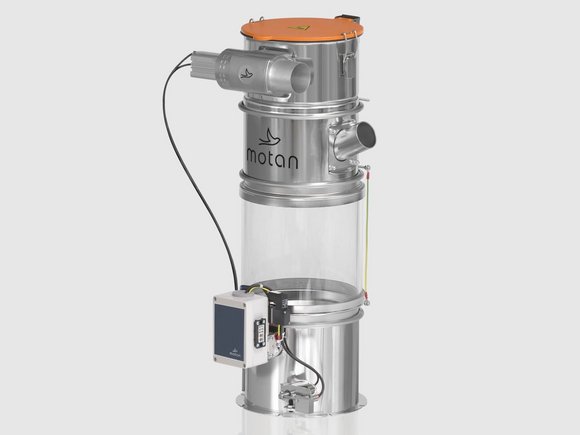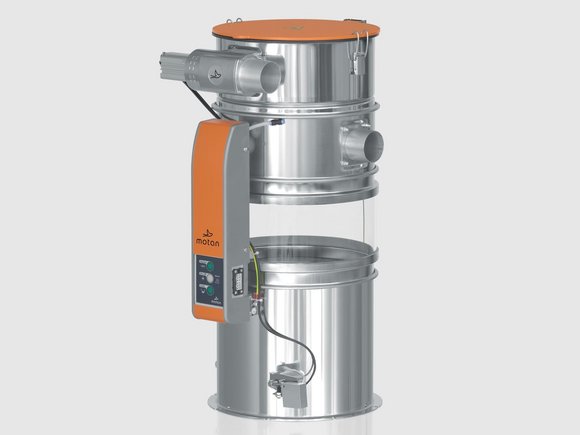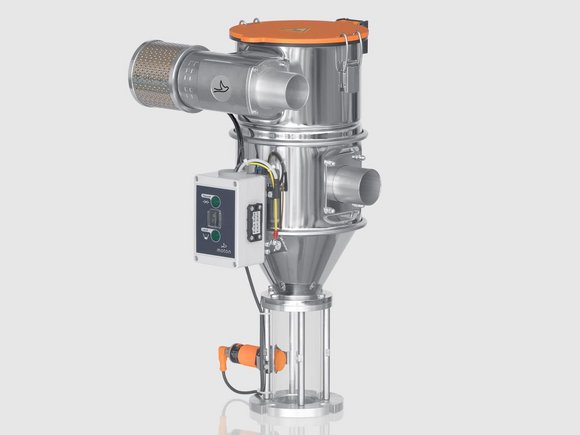 Granules
METRO G
Modular design
No product redundancy - as your production requirements change so does the material loader.
All material loaders are fully modular and can be matched to different throughputs and requirements depending on the application. Not only are there different material loader volumes but also different material inlet and outlet sizes which can be accurately adapted to suit throughputs and conveying distances.
×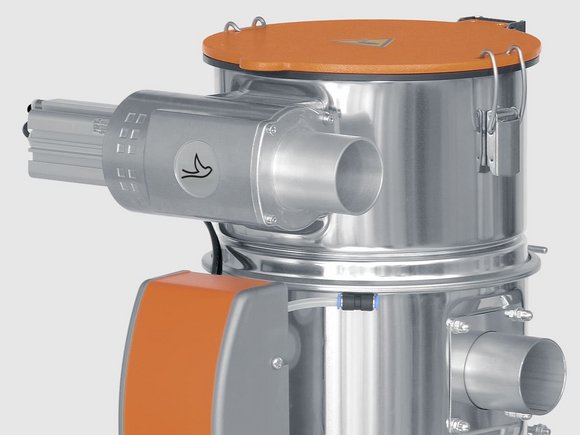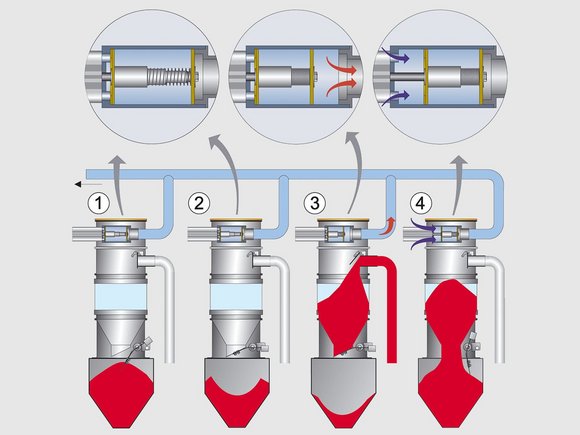 Granules
METRO G
Vacuum valve with implosion
Guarantees constant and stable material conveying and reduces maintenance costs.
The mesh filter is automatically cleaned by implosion after each loading. This guarantees constant and reliable material conveying and reduces maintenance costs for the loader. Because the material loader is air-tight, the conveying performance remains stable and there is no dust around the unit.
×
Granules
METRO G
Lid mounted vacuum valve
Reliable operation even when conveying with high vacuums.
The design with extra strong air cylinder makes this vacuum valve perfect for demanding conveying applications where high material throughputs and high vacuum are required.
×
Granules
METRO G
Membrane vacuum valve
Designed for cleanrooms. Contamination free - guaranteed.
A membrane vacuum valve operates without the need for compressed air. Instead, it gets its energy from the conveying system, using vacuum to open and close the valve. This makes it ideal for clean room applications.
×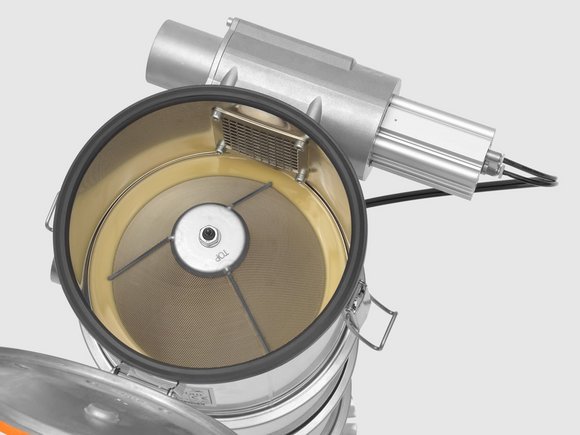 Granules
METRO G
Vacuum module
Professional installation with no unnecessary bends or hoses.
The vacuum module can be rotated by 360 °. This allows for a professional neat installation without unnecessary bends or hoses.
×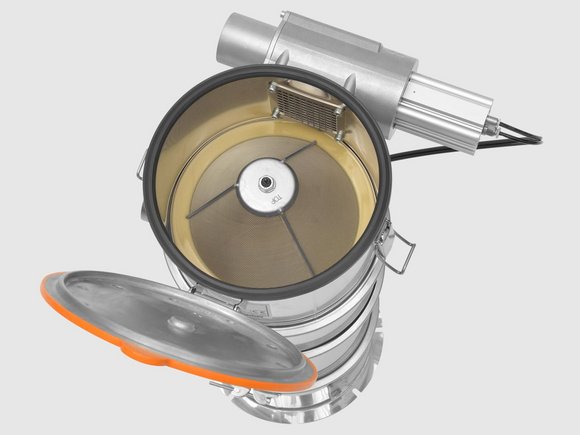 Granules
METRO G
No hose connected to the lid
Easy and safe cleaning.
When equipped with a standard implosion vacuum valve, the material loader lid is free from any attachments such as hoses and valves. This allows you to safely and easily gain access to the unit, which saves time when cleaning the loader.
×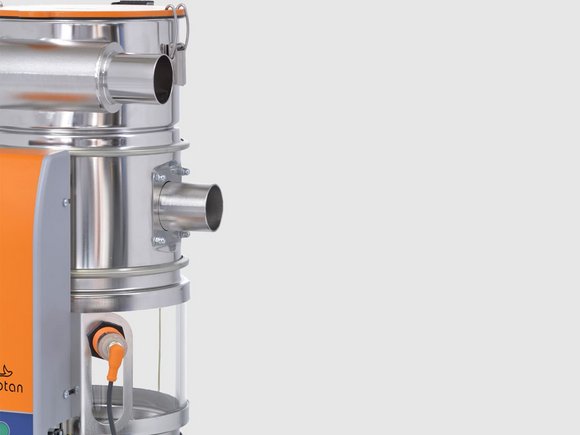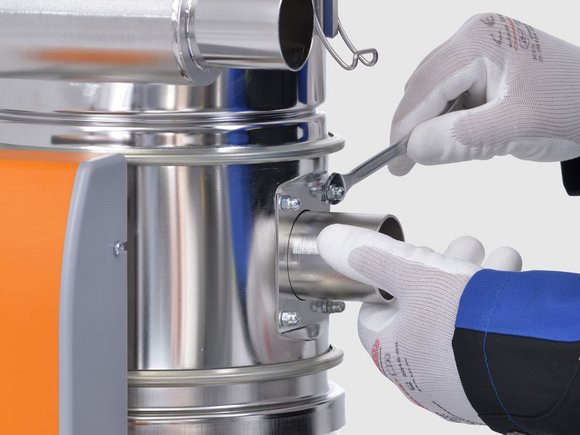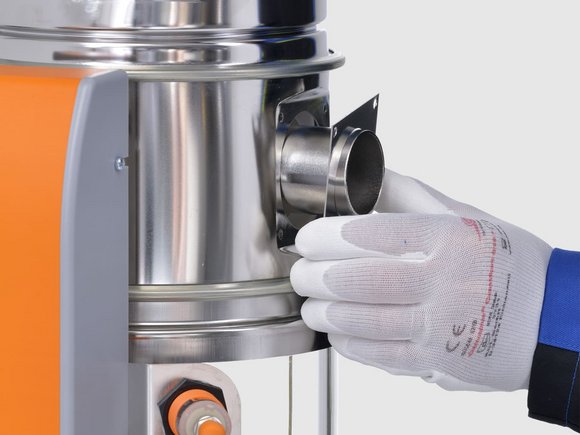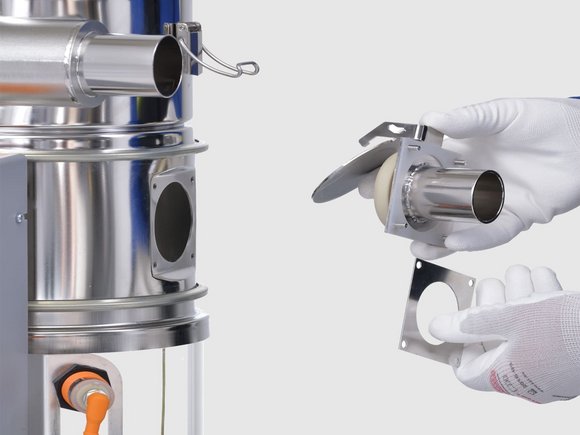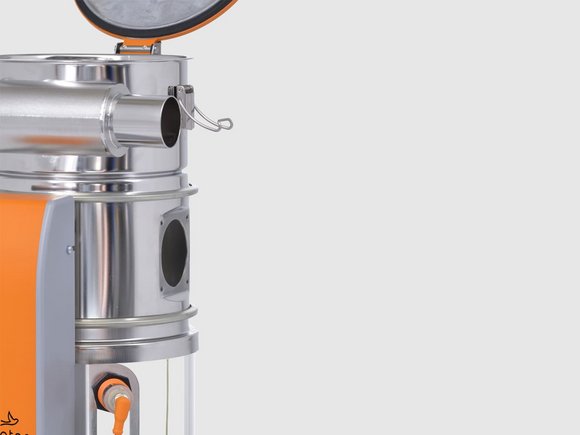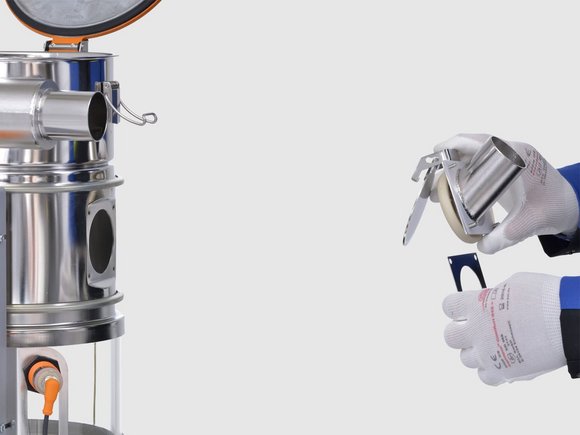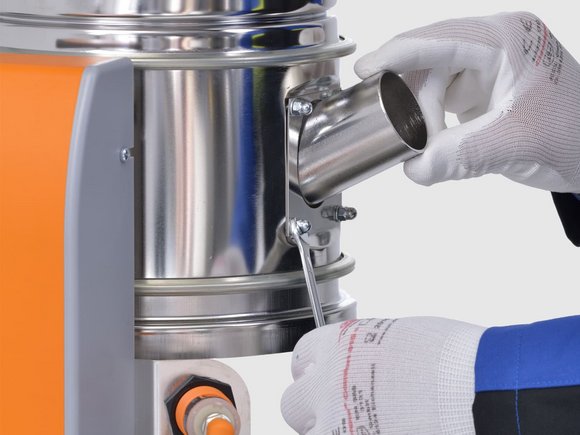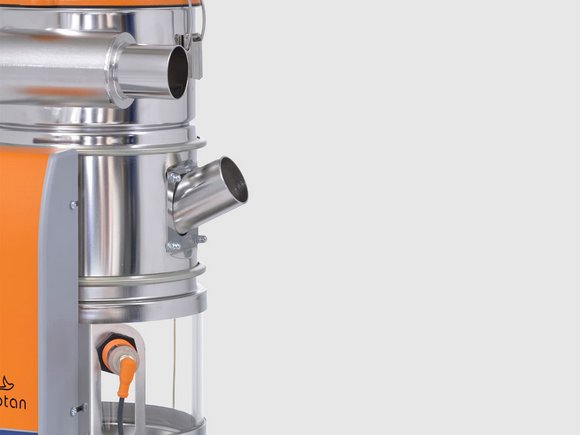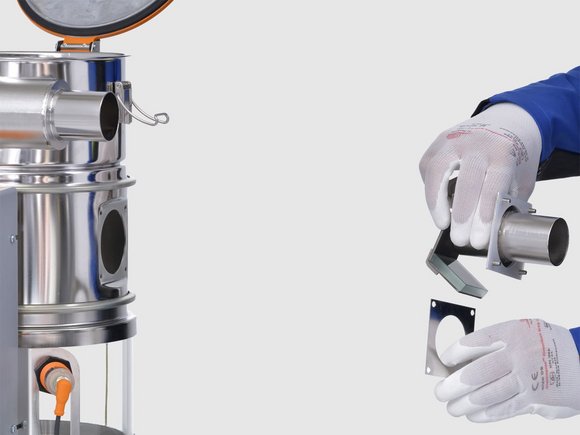 Granules
METRO G
Interchangeable material inlets
Easy to exchange and abrasion resistant.
The material loader inlet flaps are easily removable and can be exchanged depending on your application. As well as different inlet diameters there are angled and glass plated versions for abrasive materials.
×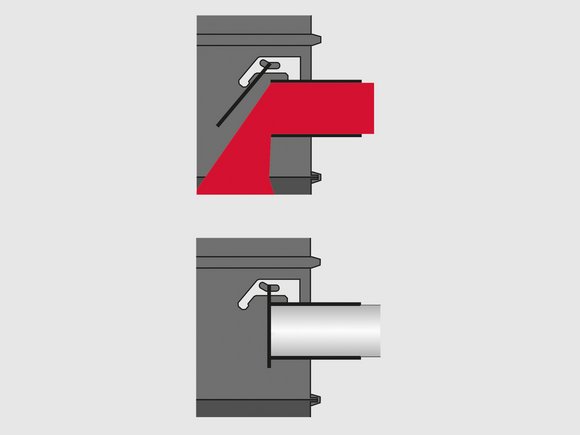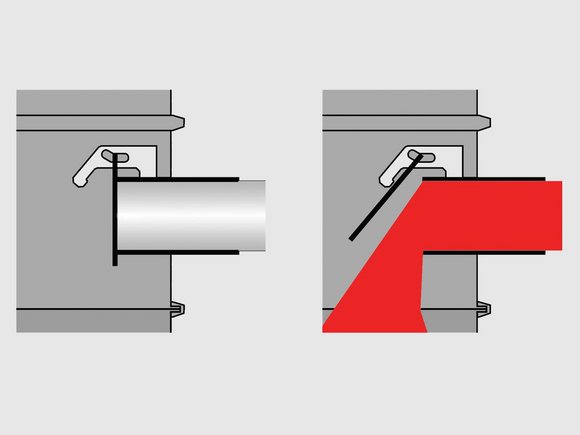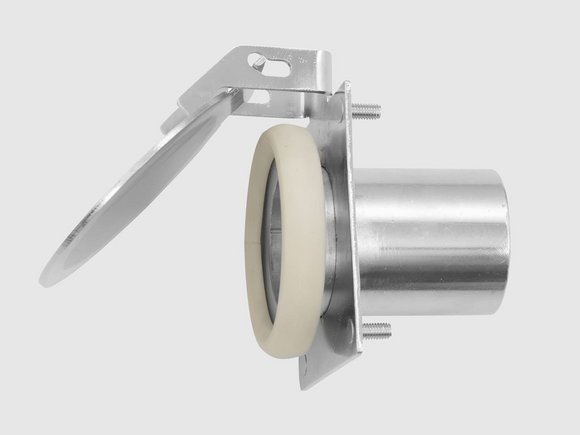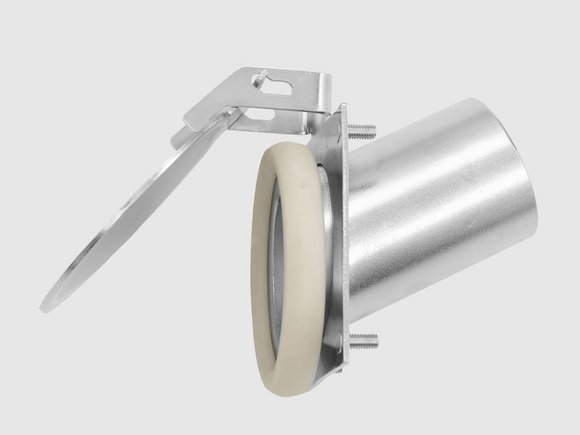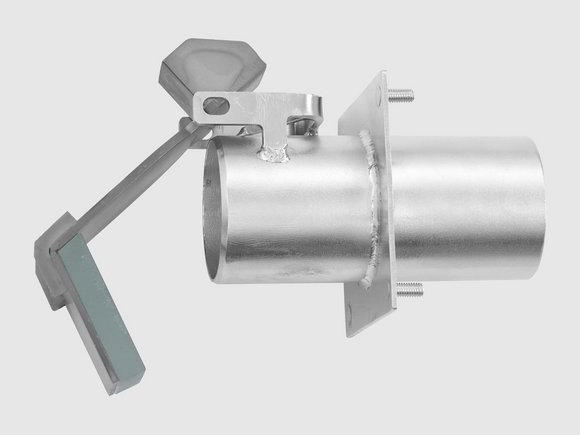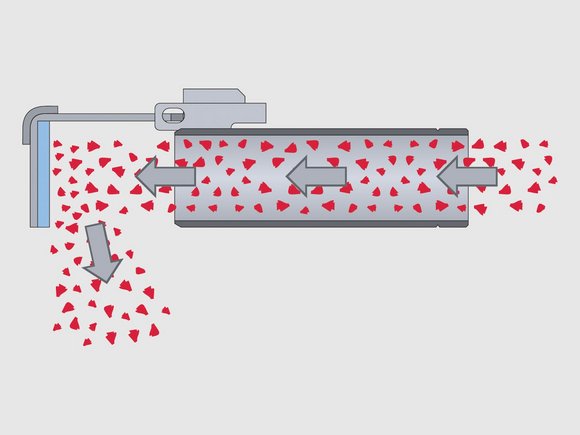 Granules
METRO G
Material inlet flaps
Optimum conveying capacity and minimum wear.
The material loader inlet flaps make sure that multiple loaders can work together properly in a system. They limit the amount of vacuum required for a group of loaders connected to a coupling station. Thus, no check valves need to be installed in the material flow at the coupling station which would result in a reduction of conveying capacity and increased material abrasion.
An additional benefit of the inlet flap is that it acts as a deflector plate at the material inlet and so protects the loader mesh filter and body from wear. A special glass plated version is available for extremely abrasive materials.
×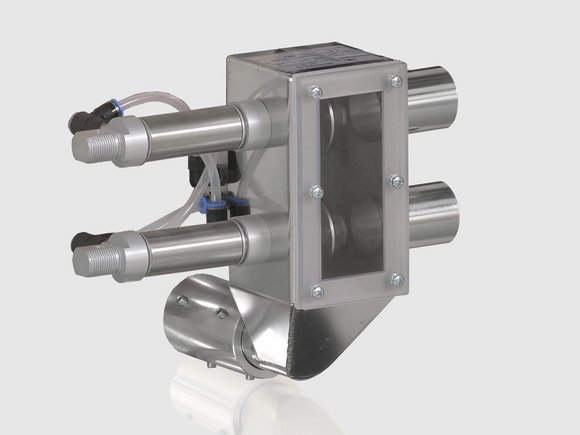 Granules
METRO G
Material proportioning valve
Accurate and reliable addition and mixing of regrind and virgin materials.
The electro-polished stainless steel METROMIX proportioning valve can be connected to the METRO G material loaders. You can easily adjust the percentage and number of material layers per conveying cycle. A large transparent access panel gives you easy access for cleaning.
×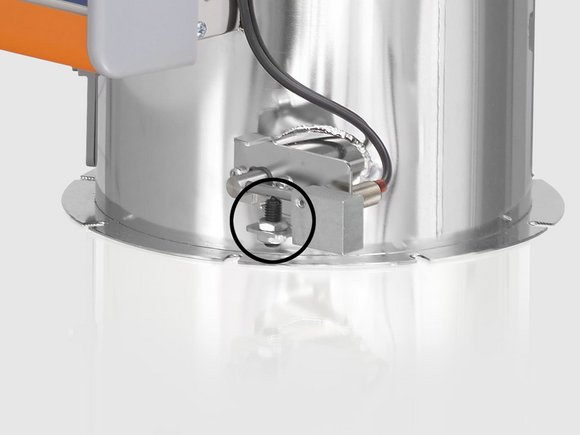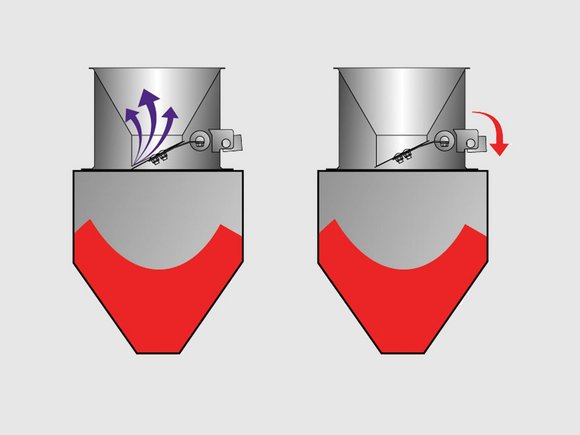 Granules
METRO G
Dampened discharge flap
Prevents material jamming and vacuum loss.
A spring loaded damper on the discharge flap prevents the flap from completely closing when not under vacuum. During pneumatic conveying, any granules left lying on the discharge flap which might get trapped are first sucked away. With increasing vacuum, the flap is then pressed against the spring and will close completely.
×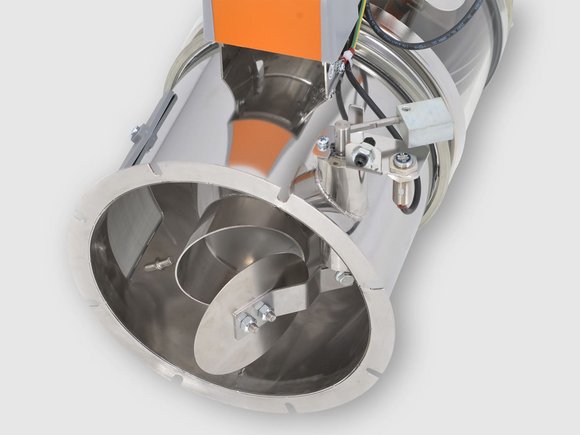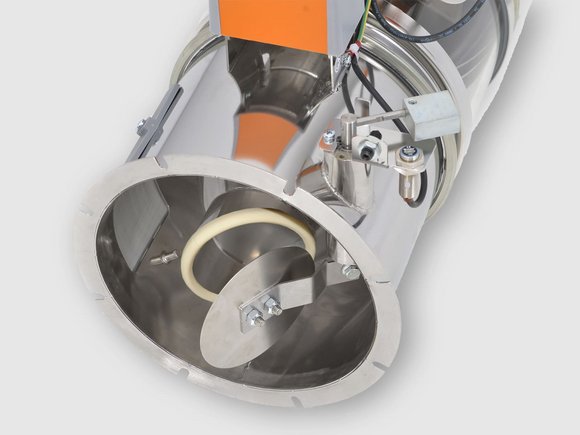 Granules
METRO G
Stainless steel discharge flap
Abrasion resistant.
Because the large material outlet has a discharge flap which is made of stainless steel, it is abrasion resistant and meets all requirements for medical or food packaging applications. The angled design ensures complete emptying of the conveyor after each conveying cycle.
×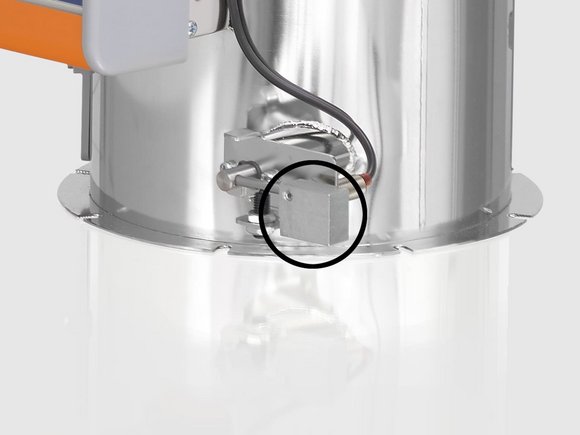 Granules
METRO G
Discharge flap counterweight
Visual status of the loading cycle and great for service.
The counterweight of the discharge flap is mounted on the outside of the loader discharge module. This means that the actual status of the loading cycle is visible at all times. Service work can be easily and quickly carried out, because of easy accessability.
×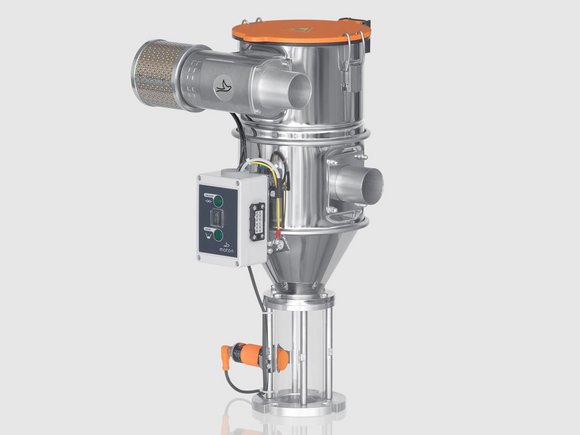 Granules
METRO G
Machine loader
Perfect for hygroscopic materials and where space is limited.
When conveying hygroscopic materials with small throughputs or where space is limited a machine loader version is available. The discharge module of the loader has no discharge flap and the unit must be mounted directly on the feed throat of the processing machine.
Your benefit is that no machine supply hopper is required and very little material is stored at the machine. This is especially important for dried materials as the holding time of the material is kept to an absolute minimum.
×
Granules
METRO G
Electro-polished stainless steel
Contamination free and easy to clean.
All material loaders are modular and are constructed from electro-polished stainless steel, guaranteeing you contamination-free operation and easy clean down due to the high quality surface finish.
×
Granules
METRO G
Glass body
Allows for visual control of the process.
The glass body option allows you to visually check the status of the loader at a glance and see which material is being conveyed. This is very useful when changing materials with different bulk densities. Overfilling of the loader (which can lead to the mesh filter becoming blocked) can easily be detected and the conveyed quantity adjusted.
×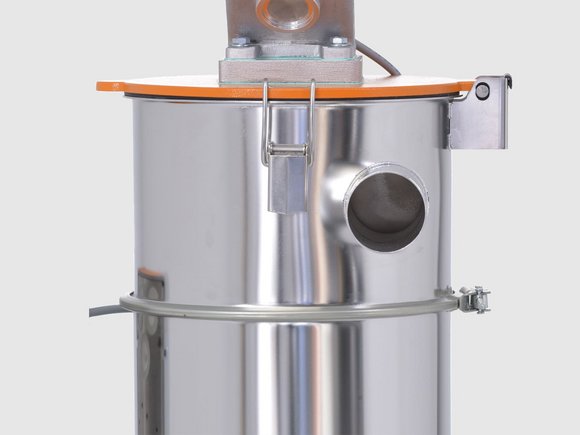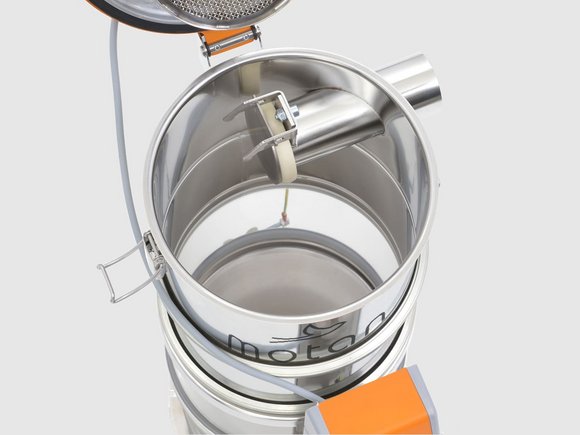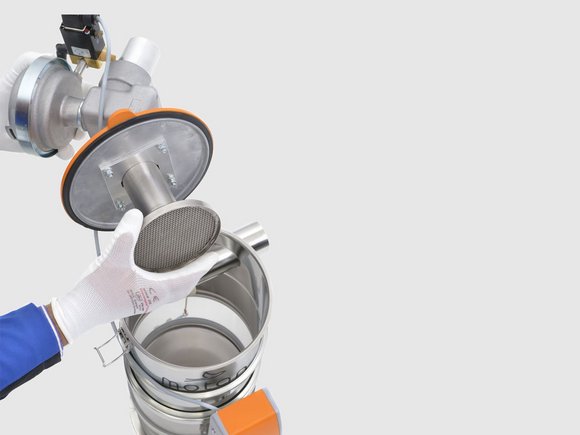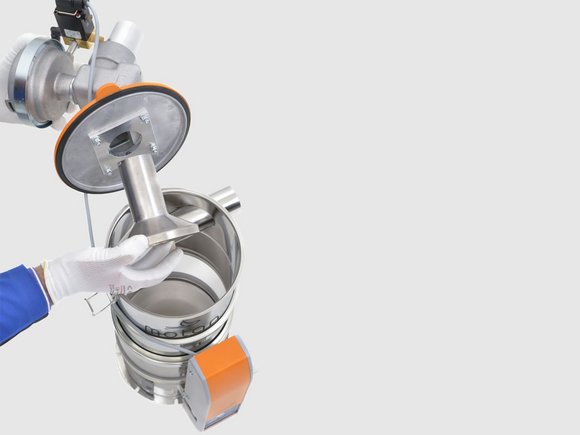 Granules
METRO G
Tangential material inlet with trumpet air outlet
The ideal solution for fine or dusty materials.
If the materials that you need to convey have a small granule size, are very dusty, or contain angel-hair, then the METRO G loaders can be supplied with a tangential material inlet. During conveying this produces a cyclone effect which is perfect for separating different types of materials. With the "trumpet" air outlet, the exhaust air speed is well below the levitation speed so that no granules or particles can be carried back to the central dust filter.
×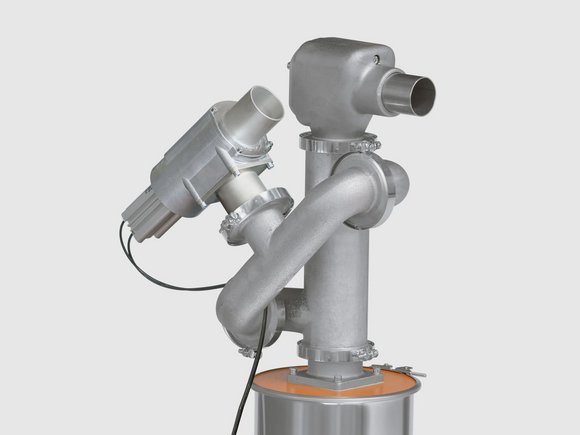 Granules
METRO G
De-dusting module
Guarantees consistent material quality for critical applications.
The de-dusting module removes dust from high performance engineering plastics directly at the hopper loader, sending them to the central dust filter via the air flow. These expensive materials, now dust-free, can be processed without further delay.
×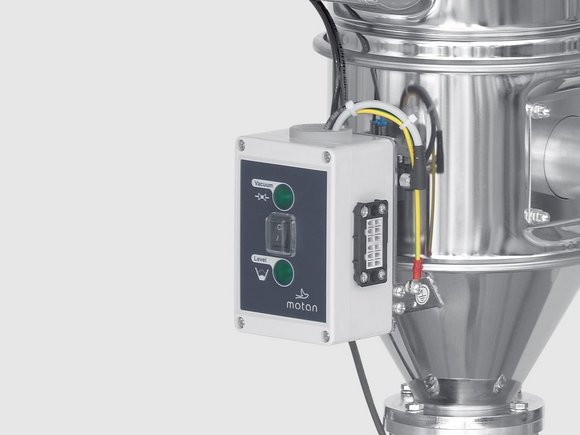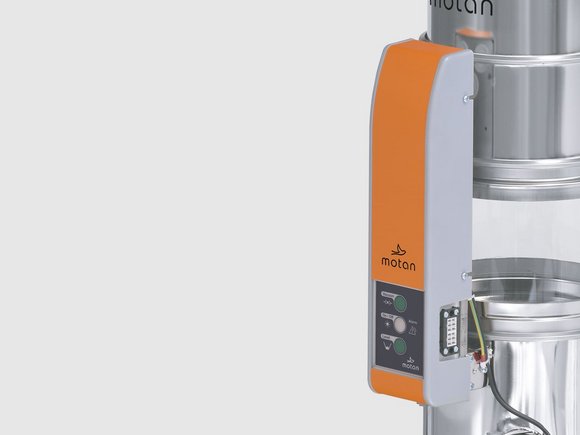 Granules
METRO G
Loader controls
From simple cost effective solutions to innovative state-of-the-art controls.
Three different control box options are available.
P box: a simple plug connection with all other functions accessible at the central control
S box: status indication and an on/off switch are at the loader
C box: the most advanced control box with alarm and status indication, on/off and other functions located directly at the loader.
×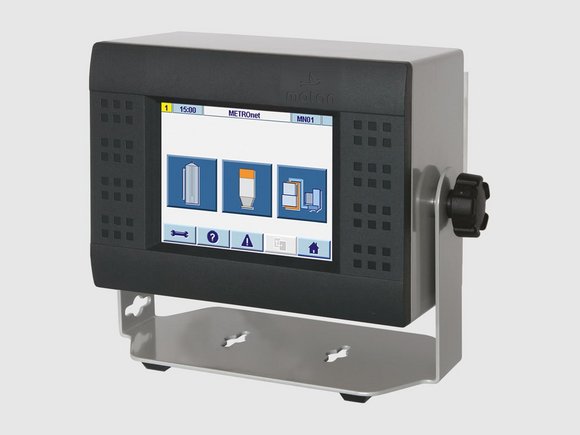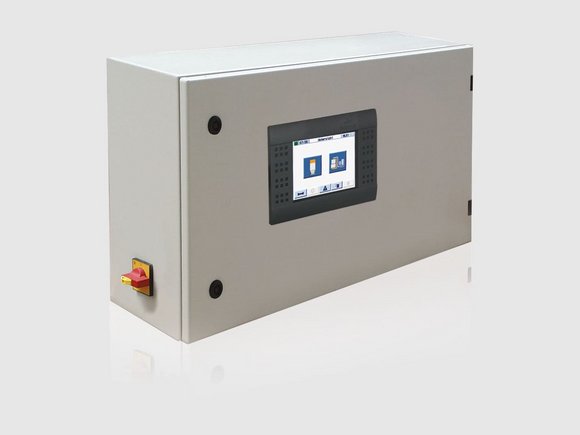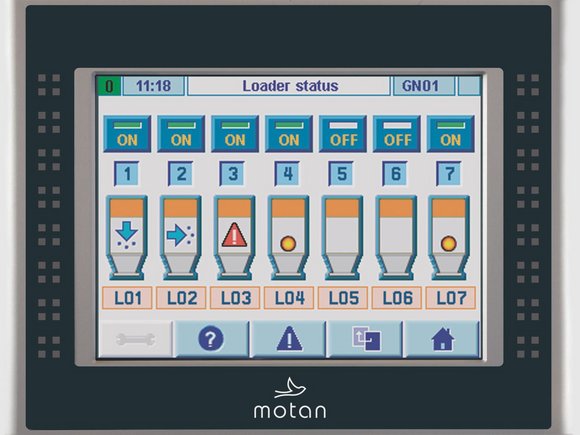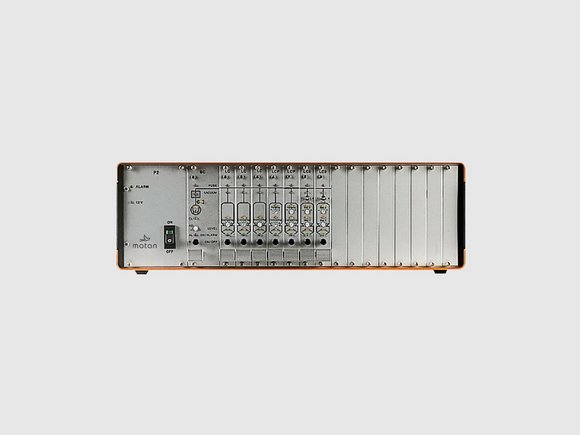 Granules
METRO G
System controls
From simple cost effective solutions to innovative state-of-the-art controls with Ethernet-based open network architecture.
Several different levels of automation are available for controlling the METRO G loaders.
SELVAC 2: market-proven microprocessor-based control.
METROnet S: a soft PLC conveying control for standard conveying systems.
METROnet AE and AN: the ultimate networkable system toolkit for complex conveying systems with either a soft PLC or Siemens S7 PLC with WEBpanel and decentralised CAN Bus nodes for the connection of peripheral equipment.
All METROnet controls are totally integrated in the CONTROLnet platform and can be linked to other controls via Ethernet.